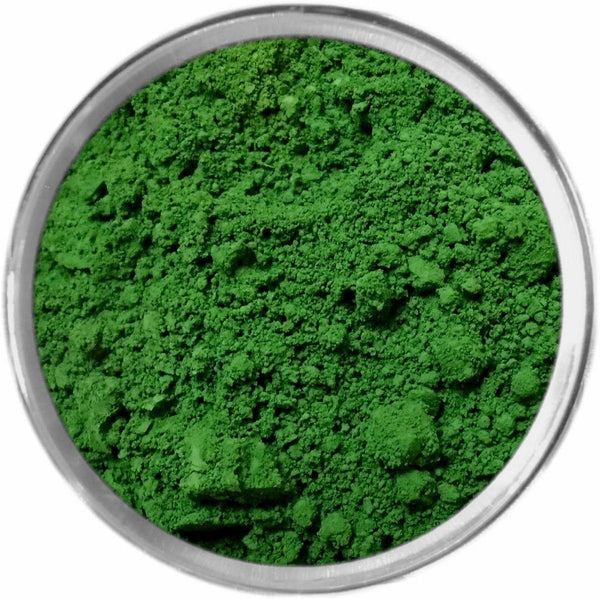 ---
Green grass matte - no shimmer very intense pigment, great eyeliner shade!
Ingredients

:
► chromium oxide green
► mica


NOT FOR LIP USE
Multi-Use Loose Mineral Powder Pigment Colors
What it is… All-natural, highly pigmented multi-use loose mineral powder pigment of color. 12-in-1 uses! eye shadow, eye contour, eyeliner, brow powder, colored mascara, blush, lip* color, nail polish, hair highlights or lowlights, body shimmer, tinted moisturizer, & bronzer. With no fillers, binders or chemicals typically found in most mineral makeup. Easy to mix & match or wear them alone. 
 
My tips on how to use it…Try applying our mineral eye shadow with a dampened brush or sponge applicator for a more dramatic look.
To further increase color intensity, use with our creamy eye shadow primer or liquid eye sealant. All of our mineral eye shadows can also be applied wet or dry as an eyeliner.   

Why I love it… I love the versatility & wear-ability of the mineral colors. The high pigmentation allows for a strong, truer color pay off that lasts all day. It only takes a tiny bit to achieve the look I am going for. (yes a little really does go a long way) So many colors with endless possibilities. I have so much fun playing with colors and enjoy mixing them with others to create a one-of-a kind makeup look. 

Why you'll love it… Available in over 300 colors! Every color of the rainbow from the barest of neutrals to the most beautiful brilliant bolds. Special effects, multi-reflective iridescents, opalescents, duo chromes, glitters, shimmers, mattes & semi-mattes. So many shades, so much fun...Go Wild & Be Creative! Also available in 11 different sizes…from the smallest 1/4 teaspoon sample size, jar refills, up to our largest 30 gram sifter jar. Packaged in clear, see-through jars that will excite your visual senses. The sifter inserts will help you control the amount of powder you use.

What's in it… Lots of Love! Many of the colors are made with: mica, iron oxides, & titanium dioxide. Depending on the shade, they may also contain: zinc oxide, tin oxide, ferric ferrocyanide, ultramarine pink, manganese violet, silica, carmine, ultramarine blue, & chromium oxide greens. For your convenience, the ingredients are listed with every individual product. All raw ingredients are manufactured in the USA. 

What's not in it… I am very passionate about what I am putting on my skin. no talc, no synthetics, no oil, no fillers, no parabens, no toxic chemicals, no fragrance or perfumes, no bismuth oxychloride, no cornstarch, no gluten, no nano particles, no preservatives & absolutely NO Animal Testing! 

What else you need to know… *All of our loose mineral products are FDA approved for cosmetic use, however some are not for lip use. (you cannot eat it) Majority of these shades are blue & green, but some purples and pinks too. 
Any shades that are formulated using ultramarines, ferric ferrocyanide & chromium oxide green. These are wonderful eye shadow, eyeliners and blush shades. Also, any product that contains carmine are non-vegan.  

ver·sa·tile :: having varied uses or serving many functions. All mineral colors can be mixed with other mineral colors for the perfect unique customized shade!